Mike Shinoda on How New Album 'Post Traumatic' Was Like Therapy
For many musicians, writing and recording music can be very therapeutic, and allows their vulnerability to come forward ... which brings us to Linkin Park's Mike Shinoda. It's been almost a year since the passing of the rocker's close friend and bandmate, Chester Bennington, and in the aftermath, Shinoda has put pen to paper and turned lyrics into songs, and his debut solo album, Post Traumatic, has officially arrived.
Post Traumatic is also the title of Mike's three-track EP he released back in January, and the name has carried through to his new LP. The solo album showcases 16 new songs, including features from genre-breaking artists like Machine Gun Kelly, blackbear, K.Flay, and more. And as Shinoda explains, the body of work is very autobiographical, much inspired by this past year.
With the release of Post Traumatic, Mike Shinoda is opening up about his debut solo album, how the writing process was therapeutic for him, all of the support he's received from fans over the last year and more during an exclusive interview with iHeartRadio. Read on below.
How are you feeling about the release of Post Traumatic?
"Delivering an album and finally releasing the thing that you've been working on for a while, it's such a great feeling. And even though this one is a really different kind of album for me, I'm still really excited for people to hear it, for sure."
What was it like putting this album together?
"Post Traumatic is, in a sense, it's a little bit of a autobiographical kind of album; maybe almost like a concept album. It's basically chronologically created in a certain way, so in terms of the events of the last nine months, it started in a really dark place, and then slowly as things in my life got brighter, the music did too. That's something you notice from beginning to end on it."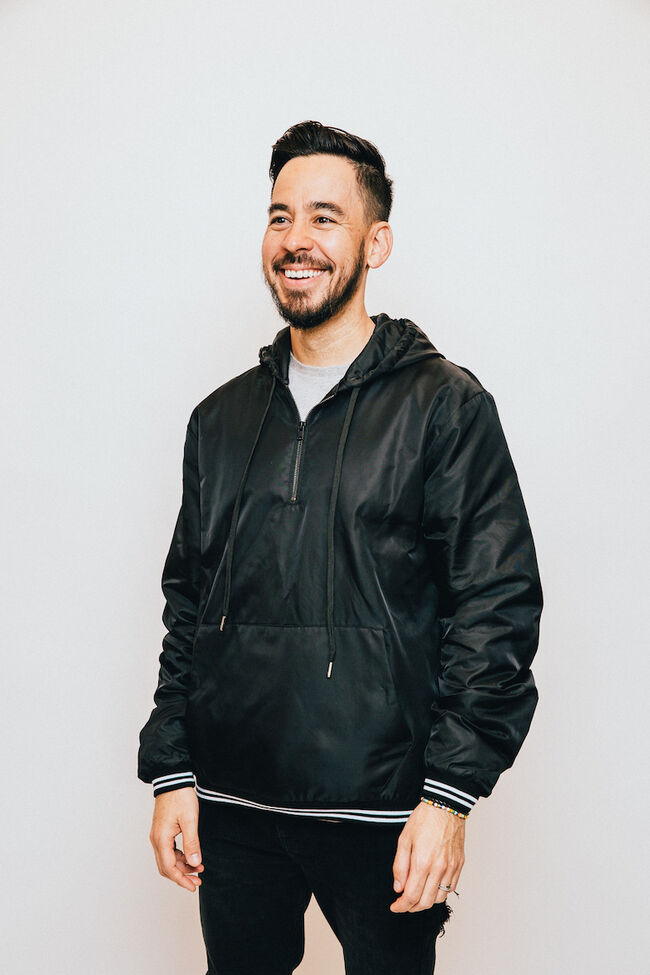 You've teamed up with artists including Machine Gun Kelly, K.Flay and blackbear, who are across the board in terms of genre. So how & why did you connect with them for Post Traumatic?
"I think one thing that you notice with the guests on the record is that they tend to be genre-bending; kind of like the way that I've always been. When we got started with Linkin Park, I remember in high school that like there were rap kids and rock kids and stuff like that. And very shortly after we put out Hybrid Theory, I think within the next few years I would ask people, what do you listen to? And it was always, 'everything.' The answer was always 'everything.' Which that's always how I've been. So to look around now at artists thinking, if I was to bring somebody on a song and collaborate with somebody, who would I want to work with? There are just so many artists that just kind of work outside of genre, that it's not about what kind of music you make, in terms of what it sounds like, but just what your vision is. I think a lot of the artists that I worked with on this record are that way."
Do you have a favorite song on Post Traumatic or one that's really special to you?
"I don't have a favorite song on Post Traumatic, I think mostly because it all just kind of poured out. There was almost, like, no effort in trying to write the lyrics or the concepts for the songs. I had more than I could even put down. So it was a really different kind of experience. Because usually it's like trying to focus on what the topics are [that] I want to sing about, and putting songs together in that way. And this one was not ... there was no effort in it at all. I tell people, this year life was hard, but making music was easy. And in a sense it was the thing, the outlet that helped me get through the year."
What do you hope your fans take away from this album when they listen to it from beginning to end?
"I feel really lucky to have the kind of community and fan base that I've got. The support has been incredible and it is like a big huge family. I see them going way over the top to make me feel supported. Going crazy to support each other, which is so unusual. Especially these days, I think that's so special and so important. And maybe it is because of the loss of Chester, maybe it is because they have this new awareness about mental health and supporting each other. But for me, as I go on with the album and touring and promoting and everything, being a part of all of that, it does feel really like a special moment, for sure."
Mike Shinoda also went further into detail about Post Traumatic, and talked about inspiration for a few of the songs including "Hold It Together" and "World's on Fire," as well as what the future of Linkin Park looks like in the debut episode of iHeartRadio's Inside the Studio podcast, hosted by Joe Levy. Listen below: